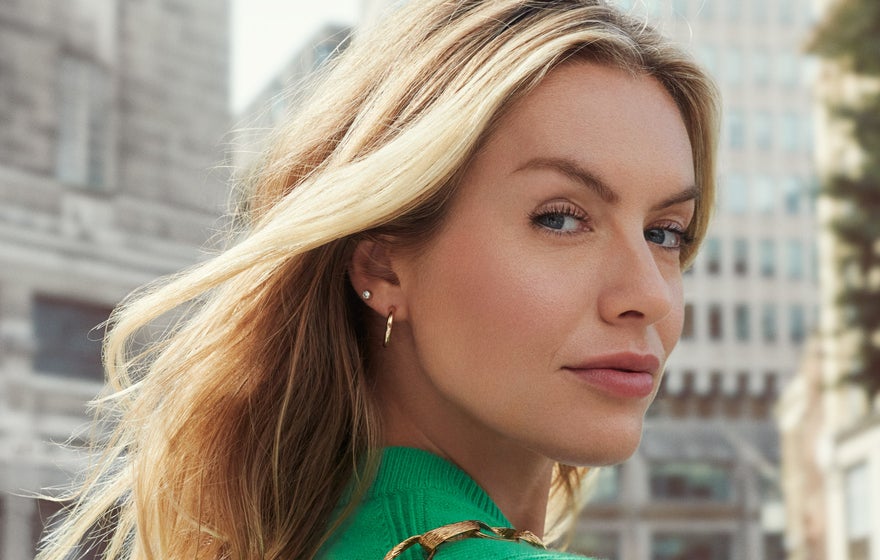 How it works and what results you can expect
Have you noticed that the skin on your face – and maybe also on your neck, décolletage and hands – is not the youthful skin it used to be? Maybe you feel that your skin has become dry, dull and rough, with fine lines and wrinkles? Don't worry. There is a treatment that can give you that radiant hydrated skin again – Restylane® SKINBOOSTERS™. This is how it works.
Hydrated skin from within
With time, and due to external factors, we may lose the fresh and youthful skin we are used to. Stress, lack of sleep, soaps, detergents, excessive sun exposure, as well as natural aging, all affect the skin. The radiant skin that we used to have feels like something of the past. Skin elasticity has deteriorated and seems impossible to restore.
Whereas creams and face masks can have some effect on the skin surface, it must be restored from within to improve skin elasticity and to regain a hydrated skin. This is what Restylane® SKINBOOSTERS™ is all about.
Get your radiant skin back
Restylane® SKINBOOSTERS™ is an injectable treatment that uses the natural ability of hyaluronic acid to bind water molecules, locking moisture within the skin.1 Hyaluronic acid is a substance that occurs naturally in our bodies. The hyaluronic acid in Restylane® SKINBOOSTERS™ has been stabilized to provide a long-lasting effect.
A treatment with Restylane® SKINBOOSTERS™ consists of multiple injections of small amounts of stabilized hyaluronic acid gel into the skin.
Restylane® SKINBOOSTERS™ is actually not a new treatment for youthful skin. It has been used for more than 14 years and more than 5.5 million treatments have been performed to date.2
More hydrated skin, improved skin elasticity, less roughness and fine lines
What exactly does Restylane® SKINBOOSTERS™ do for your skin? Clinical studies have shown that it refreshes the appearance of the skin on the face, hands, neck and décolletage.3 It improves skin elasticity, decreases skin roughness, reduces fine lines and improves skin hydration.3 So, if you are looking for a treatment that can give you a youthful skin again, this could be something for you.
96% want to continue their treatment
A good thing to know is that people who have been treated with Restylane® SKINBOOSTERS™ are very satisfied with the results. As many as 96% of those treated want to repeat or continue their treatment.4
Another great thing with Restylane® SKINBOOSTERS™ is that it is long-lasting. A clinical study has shown that all of those treated – 100% – could see the improvement up to 12 months after the initial treatment.5
The treatment program
It takes some time to get radiant skin again. Thus, a treatment program with Restylane® SKINBOOSTERS™ starts with three initial treatment sessions, 2-4 weeks apart. At each treatment session, small amounts of stabilized hyaluronic acid gel are injected in multiple places in the chosen area. After these initial treatments, you only need a maintenance treatment every 4-6 months.
Want to know more?
Ask your healthcare practitioner to learn more about Restylane® SKINBOOSTERS™ or find a clinic near you.
References
Gubanova EI et al. Poster presented at IMCAS 2015.; Distante F et al. Dermatol Surg 2009;35(S1):389–93. 2. Data on File (MA-39929).
Data on File (MA-33110).
Kim J. Arch Aesthetic Plast Surg 2014;20(2):97–103.; Kerscher M et al. Dermatol Surg 2008;34(5):720–6.; Gubanova EI et al. J Drugs Dermatol 2015;14(3):288–98.; Gubanova EI et al. Poster presented at IMCAS 2015.; Streker M et al. J Drugs Dermatol 2013;12(9):990–4.; Nikolis A and Enright KM. Clin Cosmet Investig Dermatol 2018;11:467–475 4.
Gubanova EI et al. Aesthetic Med 2010;1:94-98.
Gubanova EI et al. Poster presented at IMCAS 2015.; Streker M et al. J Drugs Dermatol 2013:12(9):990-4