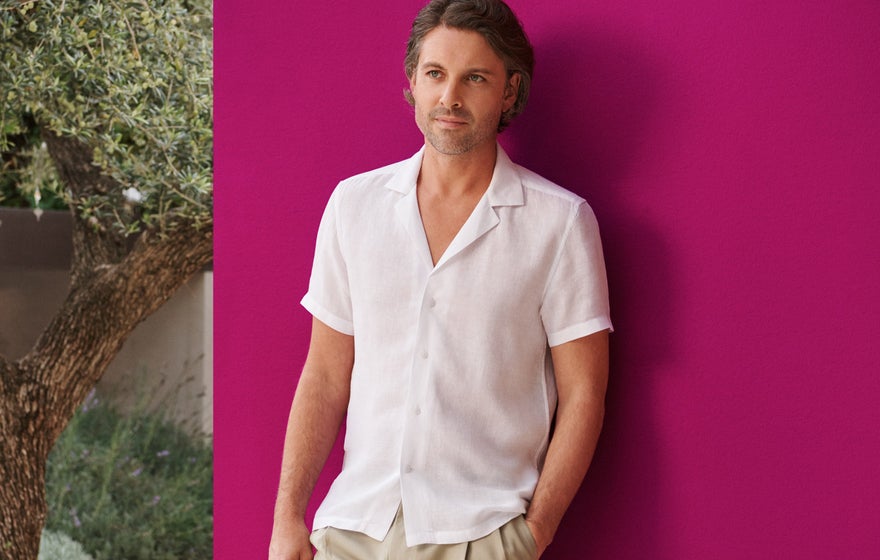 Aging looks different on different people. Some are affected by facial volume loss, whereas others are more troubled by sagging skin or skin laxity. Fillers are great for adding volume and contours to the face, or for filling specific lines or wrinkles. However, fillers will not get you back to firm skin again. Skin laxity, or sagging skin, is mainly a result of collagen loss. Rebuilding collagen naturally is a better option in this case, and it is actually possible.
Fillers can restore volume and contours but not sagging skin
For those who are mainly troubled by sagging skin, volumizing specific parts of the face with fillers, such as the cheeks, will not always provide the desired results. Fillers can also be used to recreate lost facial structures, for example to create a more defined jawline. This may be the effect that some are looking for, but it not will not lead to improved structural support in sagging skin.
Worried about looking "done"?
A lot of people also worry about looking like they have had something "done" and therefore prefer gradual results that manifest over time. This attitude is actually quite common. Some years ago, an online survey was conducted among 383 women who were considering medical anti-aging treatments. As many as 75% of the women preferred gradual results that last two years over immediate results lasting 12 months.1
When it comes to skin aging, such as skin laxity or sagging skin, many women (and men!) desire a solution that helps restore a firm skin in a natural way. This is where collagen comes into the picture. If you belong to this group, rebuilding collagen naturally will be key.
Why is collagen important for firm skin and a youthful appearance?
Collagen is a fibrous protein in the deeper layers of our skin. It provides structure and also supports the functions of elastin and the water-binding molecule hyaluronic acid in the skin. In short, collagen helps maintain the skin's shape, while keeping it smooth and hydrated. A healthy supply of collagen means you will have a firm skin and a youthful appearance.
Collagen loss leads to weakened structural support
With age, the collagen structure in the skin starts to fragment and degrade.2 Collagen loss can also be a result of environmental factors such as smoking, excessive sun exposure and a high sugar intake.3-6
Collagen loss weakens the skin's inner structure, reducing its ability to maintain elasticity and moisture. This weakened inner structure can lead to lines, wrinkles and folds.7,8
Read more: What happens with natural collagen in the skin as we age?
Rebuilding collagen naturally with Sculptra®
If you want to appear more youthful looking with firm skin, but without looking like you have had work done, Sculptra® may be a good choice for you.
Sculptra® activates the skin's ability of rebuilding collagen naturally, to replace the structural support lost during aging. Thereby, it helps renew the skin's natural firmness.9-13
The mechanisms of Sculptra to activate collagen production
Sculptra® is an injectable collagen treatment based on a biodegradable substance called poly-L-lactic acid, PLLA. PLLA has been used in dissolvable stitches, for wound management and in medical implants for more than three decades.14,15
Sculptra® contains microparticles of PLLA that are injected into the deeper skin layers over a larger area. The microparticles are mixed with sterile water before injecting them, so the injected volume will have an initial effect that will fill out wrinkles and add volume to the skin. A few days after the injection, the water and other constituents are absorbed by the body while the PLLA microparticles remain in place. Now you will look like you did before the treatment, but deep inside the skin, collagen production will increase. Slowly but surely, Sculptra® starts rebuilding collagen naturally.
Fibroblasts, the cells that produce collagen, will produce new collagen that will provide structure to the skin. Since Sculptra® is biodegradable, the Sculptra® microparticles will be dissolved and eliminated over time, but the new collagen remains. This way, Sculptra® renews the skin by restoring skin volume and smoothing wrinkles.12,13,16-21
Look younger by activating your collagen production
If you want to look younger than your actual years – and you want to restore sagging skin to firm skin rather than treating a specific wrinkle or adding volume to a specific facial feature – Sculptra® could be a more appropriate option than fillers.
Sculptra® could also be an option if you are looking for gradual and long-lasting results. But what results can you expect and how long-lasting are they? Let's take a look.
Restore skin thickness and smooth wrinkles for up to two years
Sculptra® has been investigated in several clinical studies. The treatment has been shown to gradually improve skin thickness.12,18,19,21 This is of course beneficial if you are seeking improvement of your skin's structure and want to restore a firm skin.
Sculptra® is also long-lasting. A large clinical study some years ago investigated the effects of Sculptra® over time. The effects were measured in several ways:
Firstly, the investigators (the healthcare practitioners treating the patients) evaluated the results of the treatment. The evaluation showed that 86% of patients continued to show improvement up to at least 25 months after the last treatment (the study ended at 25 months).17
Secondly, patients themselves were asked to evaluate the improvement. As many as 8 out of 10 patients rated Sculptra® as "good" to "excellent" 25 months after the last treatment.22
Finally, wrinkles were assessed by evaluators. Sculptra® improved the appearance of wrinkles up to at least 25 months after the last treatment.16,17
So, Sculptra® could be the right choice if you are looking for a treatment for rebuilding collagen naturally, that can help reduce problems with sagging skin, and when you want long-lasting results.
Three treatment sessions on average
As you might guess, rebuilding collagen naturally in the skin takes some time. Sculptra® renews the skin gradually and differs from a filler treatment since you won't have instant results.
A typical treatment program consists of three treatment sessions over the course of a few months. Contact a qualified healthcare practitioner to find out what would be the best treatment program for you.
Find a clinic for your Sculptra® treatments here
References
Weinkle S, Lupo M. J Clin Aesthetic Dermatol. 2010;3(9):30-33.
Fisher GJ et al. Arch Dermatol 2008;144(5):666–72.
Mukherjee S. Clin Interv Aging. 2006 Dec; 1(4): 327–348.
Morita A. J Dermatol Sci. 2007 Dec;48(3):169-75. Epub 2007 Oct 24.
Nguyen HP, Katta R. Skin Therapy Lett. 2015 Nov;20(6):1-5.
Danby FW. ClinDermatol. 2010 Jul-Aug;28(4):409-11.
Ganjoo A. Aging skin. In: Venkataram M, ed. ACS(I) Textbook on Cutaneous and Aesthetic Surgery. 1st ed. New Delhi, India: Jaypee Brothers Medical Publishers; 2012:545-549.
Vleggaar D, Fitzgerald R. J Drugs Dermatol. 2008;7(3):209-220.
Stein P et al. J DermatolSci 2015;78(1):26–33.9.
Goldberg D et al. DermatolSurg 2013;39(6):915–22.
Vleggaar D et al. J Drugs Dermatol 2014;13 (4 suppl):s29–31.
MoyleGJ et al. HIV Med 2004;5(2):82–7.
Bohnert K et al. PlastReconstr Surg 2019;127(4):1684–92. Bohnert K et al. used 9 ml reconstitution volume incl. 2 ml of lidocaine in their study of improving skin quality.
McKeen LW. Plastics used in medical devices. In: Modjarrad K, Ebnesajjad S, eds. Handbook of Polymer Applications in Medicine and Medical Devices. Oxford, England: Elsevier; 2014:21-53.
LasprillaAJR, Martinez GAR, Lunelli BH, Jardini AL, Filho RM. Poly-lactic acid synthesis for application in biomedical devices–a review. Biotechnol Adv. 2012;(30):321–328.
Narins RS et al. J Am Acad Dermatol 2010;62(3):448–62.
Brandt FS et al. AesthetSurg J 2011;31(5):521–8.
Nelson L and Stewart KJ. J PlastReconstrAesthet Surg 2012;65(4):439–47.
Mest DR and Humble G. Dermatol Surg 2006;32(11): 1336–45.
Chen HH et al. JAMA Facial Plast Surg 2015;17(1):39–43.
Valantin MA et al. AIDS 2003;17(17):2471–7.
Brown SA et al. PlastReconstr Surg 2011;127(4):1684–92.