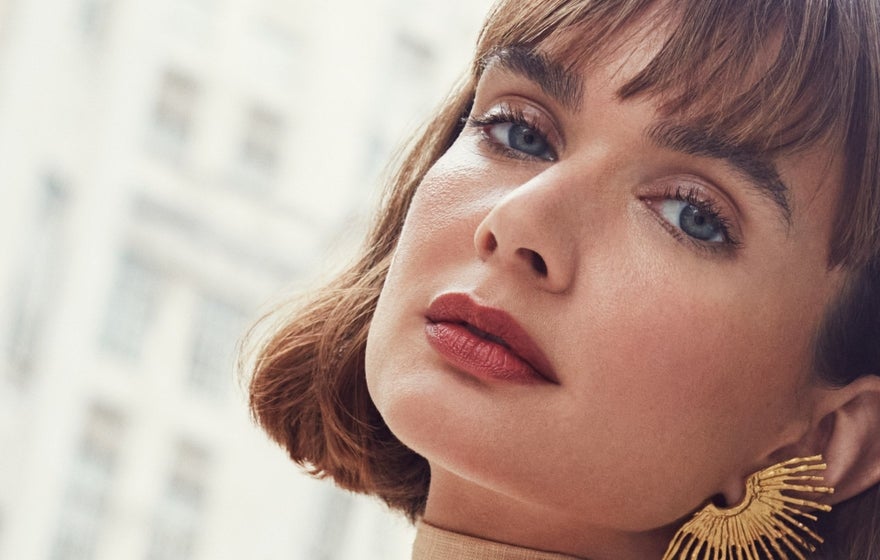 So-called tear trough fillers have become a common aesthetic treatment for dark circles under the eyes. Many clinics offer them, and you might have seen before and after images on their social profiles. However, can fillers really treat all kinds of dark circles? What result can you expect? Let's find out by taking a closer look at a clinical study of a tear trough filler.
Treating dark circles under eyes by adding volume
In the clinical study sponsored by Galderma, a filler called Restylane® Eyelight™1 was used to treat tear trough deformity. This is what experts call the sunken appearance under the eye that can cast a dark shadow and give the person a fatigued appearance.2
Fillers work by adding volume in the under-eye area to reduce the sunkenness.1
Who took part in the study?
If you are considering under-eye fillers yourself, this is of course important to know. 42 participants, all women between 23 and 68 years, took part in the study. They were from a variety of ethnicities including Arabic, Caucasian, Latin American, and South Asian.2
Why did they use Restylane Eyelight?
Restylane Eyelight was chosen because it's a firm filler that is capable of raising the tissue.2 In other words, as a firm filler it can lift the area so that the sunken appearance is reduced. 
Restylane Eyelight also has low viscosity, meaning that it's not so thick or sticky. That makes it easy to inject without unintentionally causing visible lumps in the delicate area below the eyes.2 Few people would want the under-eye area to look lumpy!
The scientists also decided to limit the injected volume to a maximum of 1.5 mL per side.2 
Evaluating the results
The results were evaluated by the participants themselves. Moreover, a statistician and an aesthetic physician, who didn't perform the actual injections but had 15 years' experience in aesthetic rejuvenation in the eye area, evaluated the results from 3-dimensional images of the participants.2 The evaluating statistician and physician didn't know what product had been used.2
This is what the participants thought
The participants had one initial treatment and then an optional additional treatment 2 weeks later. At the follow up visit 4 weeks after the last treatment, 82.9% were satisfied or very satisfied with the results.2
When the participants were interviewed by phone 6 months later, they said the following:2 
82.9% said the appearance of their dark circles had improved

88.6% thought they looked less tired

91.4% felt attractive

94.3% said they would receive the treatment again 
The conclusions from the evaluators and scientists
The independent statistician and physician evaluated the results 4 weeks after the last treatment. At that time, 85,53% had improved at least 1 grade on a special four-point scale they used to measure the severity of tear trough deformity (from 0=no deformity to 3=severe deformity).2
The scientists who performed the study (the injectors themselves) concluded that the average volume injected was moderate and that patient satisfaction and efficacy scores might have been higher if larger volumes had been used.2  
Is the area swollen after the treatment? 
It's very important to investigate the safety profile of a product. 
The most common side effect in this study was temporary oedema/swelling that occurred after half of the treatments. So, if you are considering fillers for dark circles under eyes, you can expect to be a bit swollen for some time. Other side effects were redness, bruising, and pain.All side effects resolved within 2 weeks.2 
When can I see the final results?
The area will be volumized immediately so you will see a preliminary result right after the injection. Based on this study with Restylane Eyelight, the final result can be seen after two weeks when eventual temporary side effects have resolved.  
What type of filler is Restylane Eyelight?
Restylane Eyelight1 is a filler based on hyaluronic acid, a natural substance that occurs in the body, for example in the skin. 
The hyaluronic acid in Restylane Eyelight is of non-animal origin and has been stabilized to provide a long-lasting effect.2  
How long do under eye fillers last?
Over time the body will degrade and dissolve the filler but results from Restylane Eyelight (the filler gel can also be used in other parts of the face) typically last up to 12 months and sometimes longer.2
Can under-eye fillers treat all dark circles?
As you might have seen, some people are darker under the eyes because the skin has more pigments; this is called hyperpigmentation. Hyperpigmentation cannot be solved by adding volume. Certain creams, lasers, or IPL may help reduce hyperpigmentation.3
Another reason why some people have dark circles under their eyes is that the area is hypervascular, meaning the area contains an excessive number of small blood vessels. Again, treatments such as IPL may have an effect on vascular issues.3
Consult a qualified healthcare practitioner
If you are considering an aesthetic treatment for dark circles under eyes, make sure to consult a qualified healthcare practitioner. They will be able to analyze the area correctly and recommend a suitable treatment in your specific case. 
Restylane® Eyelight is a medical device product.
References:
1. Restylane® Eyelight™ Instructions for Use EU; 2. A.Nikolis et al. A Randomized, Crossover-Controlled Evaluator-Blinded Trial Evaluating Cannula- Vs Needle-Assisted Hyaluronic Acid Injections for Infraorbital Deformities. ASJ 7-2021.; 3. Vrcek I. et. al., Infraorbital Dark Circles: A Review of the Pathogenesis, Evaluation and Treatment, J Cutan Aesthet Surg. 2016 Apr-Jun; 9(2): 65–72.