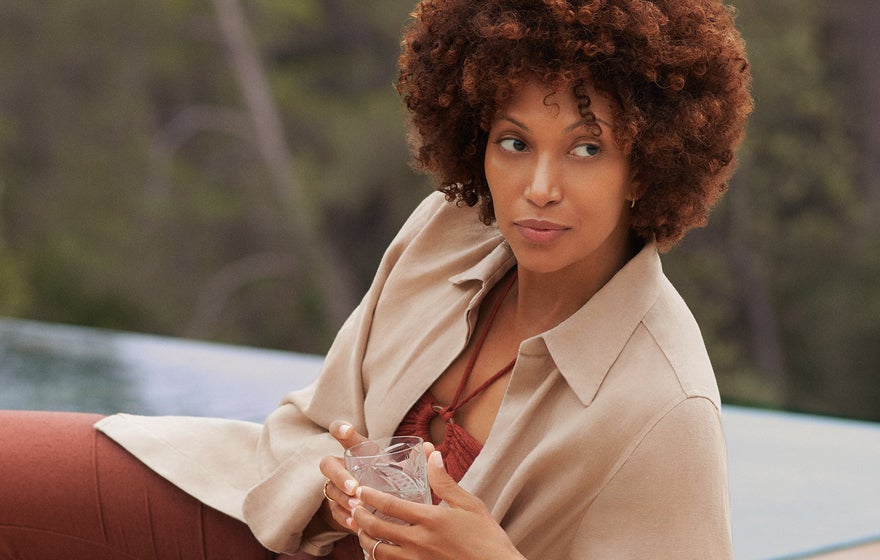 Are you looking for an anti-aging treatment that really makes a difference but don't know where to start because the market is flooded with options? If this is the case, this article is for you.
The anti-aging market is huge, are we obsessed with looking young?
When you consider the large amount of anti-aging products and treatments, the general impression can be that our society is indeed obsessed with looking young.
As the quote from Jonathan Swift (the author of Gulliver's Travels) goes:
"Every man desires to live long, but no man wishes to be old."
Judging from those who are most interested in anti-aging treatments in today's society, the quote should perhaps rather be "Every woman desires to live long, but no woman wishes to be old."
Not desperate perhaps, but still…
Naturally, all of us are not obsessed with looking young and desperately trying one anti-aging treatment after the other. Still, many women (and increasingly also men) use anti-aging products and seek anti-aging procedures at aesthetic clinics. 
If we don't want to look like a 20-year-old, what are most of us looking for in anti-aging treatments? Or in anti-aging skincare?
What most people want from anti-aging procedures
A study published some years ago showed that the reasons why patients were motivated to undergo anti-aging procedures are rather complex.1
In general, patients wanted to:1
Look more rested

Look better

Look or feel younger

Look less angry

Increase their confidence

 
When it comes to how much younger the patients wanted to look, it was about 13 years.1
The study also stated that the majority of women want their anti-aging treatment to "leave them with a natural looking, refreshed appearance". And, according to the study, "patients often state they would like to look as young as they feel".1
In other words, most of us don't want any drastic changes to our looks but want to look refreshed. The purpose of undergoing an anti-aging procedure is also to make our looks match how we feel about ourselves.
What to do when we're overwhelmed with anti-aging options?
The problem most of us face however is that the number of available options is considerable and it's not getting any easier. The anti-aging market is expected to grow about 6.7 percent per year until 2027.2 So, we'll be flooded with yet more products and treatments on a continuous basis. 
How can we possibly navigate in this world of endless options? Luckily enough, it doesn't have to be overly complicated. If we have some basic understanding of skin aging, finding the right anti-aging treatment will be, perhaps not easy, but doable. So, here we go!
The basics about skin aging
We're all familiar with the typical signs of skin aging, although exactly what aging skin looks like varies from person to person. 
Some of us will have more wrinkles, others will be more bothered by sagging skin or perhaps by skin roughness. We'll also experience changes in facial volume. Over time, the fullness of our skin and face will eventually decrease.3
Factors contributing to skin aging
There are many factors that contribute to skin aging. To begin with, we all face genetic aging, also explained as the intrinsic factors that make us age. With time, this natural, innately programmed aging will lead to thinner skin, dry skin, and to atrophy (decline) of our skin quality.3 
In addition to intrinsic aging, we're also exposed to extrinsic aging. Extrinsic aging is caused by external environmental factors such as air pollution, smoking, poor nutrition, and sun exposure. These external factors lead to coarse wrinkles, loss of elasticity, sagginess, and rough skin texture.3
The root cause of it all
If we look inside the skin to see what happens as we age, we can see that there's a steady, gradual loss of collagen. The natural collagen production in the skin is reduced by about 1 percent a year from age 20.4
Collagen is a fibrous protein that gives support and shape to the skin. The steady loss of it as we age leads to thinner and weaker skin.5,6 
As the skin becomes weaker and thinner, we'll start to notice wrinkles, folds, sagginess and so on. So, the root cause of the changes we can notice in our skin with time is mainly loss of collagen. 
Aging is universal
Aging is universal. We'll all experience loss of skin collagen at some point. On average, we lose about one percent of collagen per year after the age of 20. And by age 50, we may have lost up to 30 percent of our collagen.4
Although this steady decline might feel a bit depressing to read about, the good thing is – we mainly have to focus on one thing. If we can prevent and treat collagen loss, our skin will become rejuvenated in many ways.
Does it work in real life?
Theory is one thing, but does it work in real life? To find out, we'll take closer look at Sculptra®, an innovative injectable treatment that stimulates the skin's own, natural collagen production.7
Sculptra gradually increases the amount of collagen in the skin by as much as 66.5 percent (over the course of a few months).8 So, there's a substantial effect from the treatment inside the skin. The question is, can we also notice a substantial effect on the outside of the skin?
Long-lasting reduction of wrinkles
Sculptra has been extensively studied over the course of 20 years. One of the many things discovered in clinical studies is that Sculptra improves the appearance of wrinkles for a long time, up to 25 months.9,10 
Other benefits
In addition to less wrinkles and firmer skin, a treatment with Sculptra will also:11-13
-   Increase skin elasticity
-   Improve skin structure
-   Improve the overall quality and radiance of the skin 
A visible rejuvenation
As the example with Sculptra shows, if we focus on collagen, we can achieve a visible rejuvenation of the skin's overall appearance.
Have realistic expectations
There are many kinds of treatments on the market – from nutritional supplements and skincare to advanced aesthetic treatments.
The results from a Sculptra treatment can result in a 66.5% increase of collagen.8 We cannot expect such results from a nutritional supplement or a skincare product. We must have realistic expectations in relation to each treatment.
All of us are perhaps not prepared to undergo an aesthetic treatment. In that case, there are many other options available. When considering different treatments, a good advice is to check whether there's scientific data to support the claimed treatment effect.
If you feel that an aesthetic procedure like Sculptra is something for you, make sure to consult a qualified healthcare practitioner who has expertise in the treatment.
References:
1. Mandy SH. Dermatol Online J 2009;15(7):1 ; 2. Size of the anti-aging market worldwide from 2021 to 2027, Statista.com, https://www.statista.com/statistics/509679/value-of-the-global-anti-aging-market; 3. Zhang S, Duan E. Cell Transplantation 2018;27(5):729-738; 4. Shuster S, Black M et al. British Journal of Dermatology (1975) 93, 639; 5. Farage MA et al. Adv Wound Care (New Rochelle) 2013;2(1):5–10; 6. Quan T and Fisher GJ. Gerontology 2015;61(5):427–34; 7. Baron, Jens. Submitted Draft Abstract IMCAS 2023 (MA-54104); 8. Goldberg D et al. Dermatol Surg; 9. Narins RS, et al. J Am Acad Dermatol. 2010;62(3):448–462; 10. Brandt FS, et al. Aesthet Surg J. 2011;31(5):521–528; 11. Bohnert K, et al. Plast Reconstr Surg. 2019;127(4):1684–1692. ; 12. Mest DR, Humble G. Dermatol Surg. 2006;32(11):1336–1345.; 13. Data on File (MA-48830).