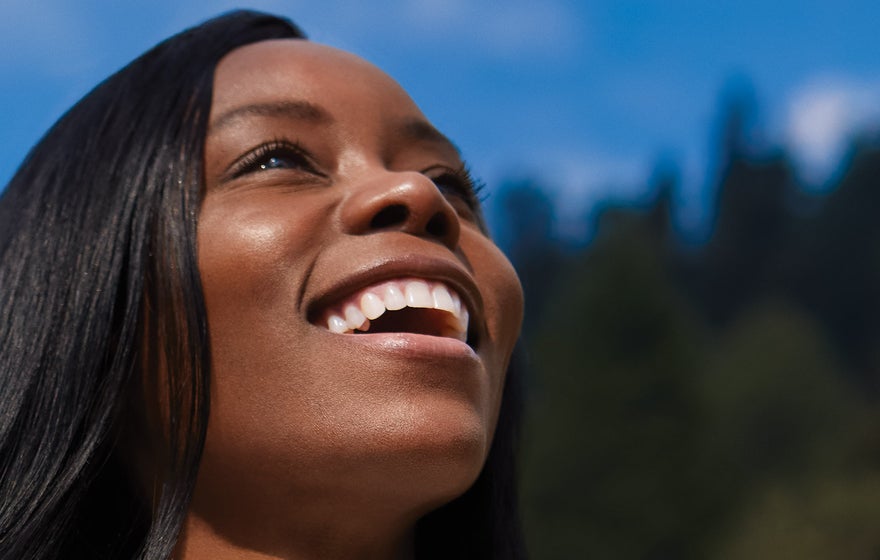 As you might have noticed in the mirror, we tend to lose some of the youthful volume in our cheeks with age. On the plus side, we can look sharper and more sophisticated when the "puppy fat" disappears. Still, some of us may feel that we have lost a bit too much volume. Could cheek fillers help to restore a younger look? Here are questions and answers that may help you decide whether this type of treatment is for you.
Loss of facial volume in the cheek area usually becomes more noticeable when we are in our 40s.1 While most of us don't want to look like teenagers, it's nice to look as young as we feel.
How can cheek fillers combat signs of aging?
Healthcare practitioners can use cheek fillers in the following ways to reduce age-related changes:2-6
·      Restore lost volume
·      Shape youthful contours
·      Project and lift saggy or flat cheeks
Consult a qualified healthcare practitioner if you want to know what a treatment could look like in your specific case. 
I am over 60. Are cheek fillers still effective for me?
Cheek fillers can be used at any age, as long as you are older than 18. Many clinics and manufacturers publish before and after images of both younger and older people in their feeds on social media or on their websites. You can follow @restylane and @galderma.aesthetics on Instagram or Facebook to see treatment results.  
Can you have a cheek lift with fillers?
With age, the cheeks can become flat and saggy. Fillers add volume and that also means they will lift the tissue.6 
Soft and flexible fillers spread – or integrate – more with the tissue. This is a desirable effect if you want to add soft volume to the cheeks. Firm fillers don't spread much but stay where they are injected. That means they can provide more lift and projection to the cheeks.7 
Can you contour the face with fillers? 
As we grow older, the volume loss that comes with aging often also leads to loss of contour in the face. Cheek fillers can be used to restore youthful-looking cheek contours.6 
Many people search on Google for cheekbone fillers because they want to augment their cheekbones. Cheek fillers and cheekbone fillers are actually the same thing – fillers that can be used in the cheek area. 
Skilled healthcare practitioners can use fillers to contour the facial shape. Fillers placed at strategic areas can, for example, create a more youthful-looking, heart-shaped face, make a round face look more oval, or give a narrow face more volume. Take a look at before and after images and you will get an idea of what the results can look like. 
Can cheek fillers make the face look thinner?
As mentioned, placed strategically, cheek fillers can change the shape of the face. So, if you want a face that looks slimmer, the healthcare practitioner can work with you to accomplish that. 
Cheek lift vs. dermal fillers: Which is right for me? 
A cheek lift, or a mid-face lift, is a surgical procedure that is less extensive than lifting the whole face. If you are worried about age-related changes in the mid-face, and have a considerable budget, this could be an option instead of cheek fillers. 
Here are some quick facts about the differences between these two aesthetic treatments:
Cheek lift
·      Permanent 
·      Long-lasting results (the face will continue to age though)
·      Longer downtime to heal after surgery 
·      Doesn't replace lost volume
·      More expensive 
Cheek fillers
·      Not permanent
·      Results can last up to two years with a retreatment4,8
·      Little or no downtime after treatment
·      Can replace lost volume
·      Less expensive than a cheek lift
Always consult a qualified healthcare practitioner if you are considering a cheek lift or a treatment with cheek fillers. They can advise about the pros and cons for each treatment in your particular case.
What do cheek fillers contain? 
Almost all fillers on the market contain hyaluronic acid. It's a water-binding substance that occurs naturally in our body, in areas such as our eyes, joints and skin. The hyaluronic acid used in fillers has been stabilized into a transparent gel. 
How long do cheek fillers last?
A cheek filler treatment isn't permanent. This means you can continuously adapt and fine-tune your looks. Exactly how long they last differs from person to person. Those who want an exact result will have to do retreatments more often than those who are ok with the result fading a bit before the next treatment. 
The following has been established in clinical studies for three Restylane® fillers that can be used in the cheek area: 
·      Restylane® Volyme™, a soft filler, lasts up to 18 months.9,10
·      Restylane® Lyft™, a firm filler, lasts up to 24 months with one retreatment.4,8-9
·      Restylane® Defyne™, a medium firm filler, lasts up to 1 year.9-10
How painful are cheek fillers?
As you probably know, we all experience pain differently. Some people may experience discomfort during the treatment. Most fillers today contain a local anesthetic that makes the treatment more comfortable.
If you are worried about pain, don't hesitate to bring this up at the consultation with the healthcare practitioner. Together you can decide whether additional pain relief is needed, such as a numbing cream. 
Are cheek fillers painful afterwards?
After the treatment there can be some tenderness at the treatment site. This type of side effect usually disappears within a week or two. 
Remember to always discuss potential treatment risks and side effects with the healthcare practitioner before treatment.
1. Haddad A. et al.; Managing the Aesthetic Patient; J Drugs Dermatol. 2019 Jan 1;18(1):92-102.; 2. Kablik J et al. Dermatol Surg 2009;35(s1):302–312; 3. Data on file (MA-33947); 4. Andriopoulos B et al. Poster presented at AMWC 2019; 5. Edwartz C et al. Poster presented at IMCAS 2020.; 6. Restylane® Lyft™ IFU EU; 7. Data on file (MA-33947); 8. Data on file (MA-39364).; 9. Data on file (MA-43049) 10. Talarico S et al. Dermatol Surg 2015;41:1361–1369.; 11. Ascher B et al. Dermatol Surg 2017;43:389–395.