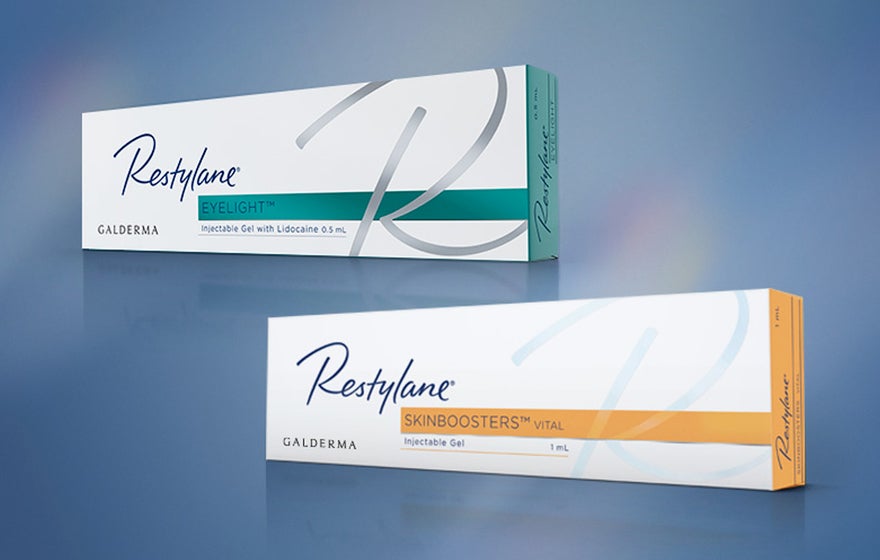 When you say 'filler', you might think 'RESTYLANE®'. And vice versa. The two have become somewhat synonymous for many people.
But the truth is, not all our products are typical fillers. Or even fillers at all. We go far beyond that. While our first few known and loved products were fillers, we've developed other treatments, too.
Boosting juiciness
Restylane® SKINBOOSTERS™, launched in 04, isn't a filler. Instead, we inject microdroplets of hyaluronic acid, HA, over a larger surface area, such as the cheeks, to smoothen7 and hydrate1 the skin. It's for skin quality6, not volume, shape, or structure.
This treatment really shows RESTYLANE®'s versatility as a brand. People can continue to come to us and ask for fuller lips, straighter noses, and a more defined chin. They can have a facial refresh2,3,4 and still look like themselves as well. For many people, aesthetic treatments are no longer about looking younger. Nor are they about considerably enhancing their appearances.
A different kind of treatment
Nothing could be more suited to these needs than Restylane® SKINBOOSTERS™, which improves skin quality by providing lasting hydration from within.1,6 Restylane® SKINBOOSTERS™ products provide hydration below the skin surface, exactly where it is needed to improve skin quality—getting patients back to hydrated and radiant skin with long-lasting results.1-4
Restylane® SKINBOOSTERS™ can be used on the face and hands, improving skin quality in three simple treatment steps, 2-4 weeks apart, for radiant-looking skin.3,5-9
This innovative treatment also benefits from our SmartClick delivery system. Healthcare practitioners are notified after each dose, allowing for a truly tailored patient experience. That bright idea won us the Red Dot Award back in 2014.
Tackling tired eyes
Our latest release is a new kind of filler that's designed to treat a different demand. Most people associate fillers with beauty treatments to add volume to lips and cheeks, but did you know you can tackle tired eyes with a filler?
Restylane® EYELIGHT™ is a pioneering eye filler that's just arrived to say goodbye to dark hollows below our eyes. It's bedtime for the 'tired look'. As we age, our facial fat can reduce and lead to a loss of volume. This can be most pronounced under the eye, in the tear trough, which becomes dark and shadowy.
Banishing shadows
If the eyes are the window to the soul, people don't want them framed by dark circles. When people see themselves in online meetings, pictures on social media, or simply in the mirror, they want to see their inner light shining through— exit shadows, enter light.10
These minimally invasive treatments generate discreet results that don't dramatically change the shape of your face. Instead, they address less expected needs. But ones that are growing in popularity all the time.
Minimal skincare
They couple well with a new movement called Skinimalism, which according to Pinterest Predicts 2020, is in.11 People are now looking for ways to improve their skin with minimal intervention. As the name suggests, Skinimalism takes a minimal approach to one's skincare.
By embracing natural textures and simplifying our routines, we're opting for a streamlined skincare regime that uses fewer products and shows off our natural beauty. Clean routines and reducing the use of makeup to the bare minimum puts skin quality in the spotlight.11
The emphasis on aesthetics is shifting. While people still desire definition, shape, and volume, new needs have been emerging for some time. The quality and clarity of one's skin, looking rested and refreshed, might just be lighting the way to a brilliant future.
REFERENCES
Distante F et al. Dermatol Surg 2009;35(S1):389–93.
Finn CJ et al. Dermatol Surg 2003;29(5):450–455.
Matsubara et al. Skin Res Technol 2012;18(1):29–35.
Gubanova EI et al. Poster presented at IMCAS 2015.
Gubanova EI et al. J Drugs Dermatol 2015;14(3):288–98.
Data on file (MA-33110).
Lee BM et al. Arch Plast Surg 2015;42(3):282–287.
Kerscher M et al. Dermatol Surg 2008;34(5):720–6.
Kim J. Arch Aesthetic Plast Surg 2014;20(2):97–103.
Data on file (MA-46075). European market survey by Opticom and Galderma Q4, 2020.
https://www.byrdie.com/skincare-trends-2021-5095638