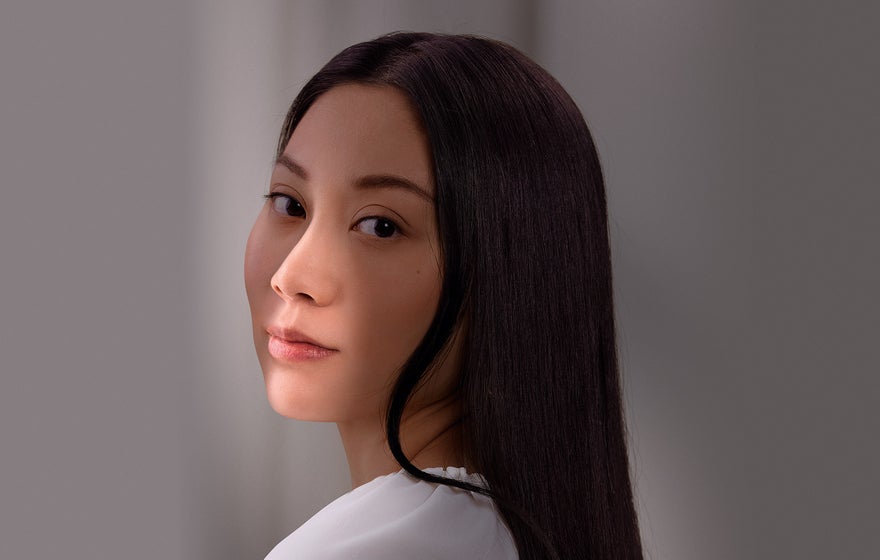 Did you know that you can change the whole shape of your face with a chin filler? Just treating this small area can have a profound effect on your looks. Read this article to find out all the versatile ways to use a chin filler. 
The shape and projection of the chin is a major determinant of how our faces are perceived.1 This means our whole face can get a different aesthetic appearance with a filler treatment in the chin. 
Improve facial balance seen from the front with a chin filler
When aesthetic experts analyze a face, they use different means. One is the "horizontal thirds", which means that the face seen from the front is divided into three parts.2 
The upper third is from the hairline to the lowest part of the eyebrows. The middle third is from the lowest part of the eyebrows to the lowest part of the nose. The lower third is from the lowest part of the nose to the lowest part of the chin.
In a balanced face, the thirds are usually about the same length, although there is some variation between ethnicities. 
A face where the lowest third is short can look very round. A chin filler can be used to elongate the face and thereby create a more balanced look. 

A short lower third can also make the face look full and some may feel the fullness makes them look childish and puffy. A chin filler can reduce the fullness by creating a more oval facial shape.

 
Improve facial balance seen in profile with a chin filler
A means to analyze a face seen in profile is the Ricketts' esthetic line3 
Dr. Robert Ricketts was an orthodontist who thought that corrections of teeth and jaw must be done in a way that keeps the face in balance and creates a pleasing profile.
The Ricketts' line is a line drawn from the tip of the nose to the chin. For a balanced profile, according to Dr. Ricketts, the upper lip should be about 4 millimeters behind the line and the lower lip about 2 millimeters behind the line.3 
If you draw a line this way (for example by holding a ruler towards your nose and chin) and it doesn't touch the chin, the chin would be considered weak (also called chin retrusion). A chin filler could add projection to the chin so that it comes closer to the Ricketts' line. Of course, it's also a matter of personal taste. You may prefer a different type of look. 

The Ricketts' line is a rule of thumb that can be used for people with Caucasian faces. If you have another ethnic background, it might not be relevant. 

If you're middle-aged or older, you might have noticed that you have lost a bit of volume in the face. That's a normal change that comes with age. For some, the loss of volume can lead to a slightly less defined chin. A chin filler can be used to restore lost volume and definition.  
Create the feminine, or masculine, look you're after
Chin width affects our looks too. Generally, a rounded and pointy chin is considered more feminine, whereas a broad chin and a broad jawline are considered masculine. Of course, there can be individual looks that differ from this generalization. 
A chin filler can be used to enhance femininity or masculinity by shaping the chin (and/or jawline) in a more feminine or masculine way.  
Treat wrinkles in the chin area
Fillers can also be used to treat wrinkles and creases in the chin area. 
The chin crease, or mental crease, is the horizontal line or crease between the chin and the lips. Some people like it, others don't. A filler can be used to reduce the crease if you have a mental crease and are bothered by it.

Other wrinkles in the lower third of the face, like the marionette lines or droopy mouth corners, can be treated with fillers as well.  
Fillers that can be used
Fillers with different properties can be used to treat the chin. The filler is injected into the soft tissue under the skin where it adds volume. 
Restylane® Lyft™ 
Restylane® Lyft™ is ideally suited for providing projection and structure.4-7 It has been designed to resist the forces created when you move your facial muscles, so that the filler stays where it has been injected.5-8
According to a clinical study9 with Restylane® Lyft™:
The results last up to 24 months with one retreatment

99% of participants would recommend the treatment to a friend

96% of participants felt their treatment met or exceeded expectations

             

 
Restylane® Defyne™
Restylane® Defyne™ is a filler that can be used in areas that require flexible support.10,11,12 
 

A clinical study with Restylane® Defyne™ in the lower part of the face showed that the naturalness of dynamic expression was enhanced or maintained in all participants.

10

In another study where Restylane® Defyne™ was used for chin augmentation, 96% of participants still had improved chin projection 48 weeks after the treatment, according to the treating investigators.

13

 
Make sure to consult a qualified healthcare practitioner if you are considering a filler treatment in the chin area. 
All filler treatments may have side effects and there can be medical reasons why they shouldn't be performed in some individuals. You will always have a consultation before the treatment where you will discuss your medical history and other treatment concerns. You should always be informed about risks and side effects.   
1. Chen, B. et al., Chin Augmentation With Hyaluronic Acid: An Injection Technique Based on Anatomical Morphology, Dermatologic Surgery 48(7):p 747-751, July 2022.; 2. Prendergast, P., Facial Proportions, July 2012, In book: Advanced Surgical Facial Rejuvenation (pp.15-22); 3. Frank Spear, F., Evaluating Facial Esthetics: The Esthetic Plane, Spear Education, March 9, 2017; 4. Lundgren, B., Sandkvist, U., Bordier, N. & Gauthier, B. Using a New Photo Scale to Compare Product Integration of Different Hyaluronan-Based Fillers After Injection in Human Ex Vivo Skin. J Drugs Dermatol 17, 982–986 (2018).; 5. Kablik, J., Monheit, G. D., Yu, L., Chang, G. & Gershkovich, J. Comparative Physical Properties of Hyaluronic Acid Dermal Fillers: Dermatologic Surgery 35, 302–312 (2009).; 6. Verpaele, A. & Strand, A. Restylane SubQ, a non-animal stabilized hyaluronic acid gel for soft tissue augmentation of the mid- and lower face. Aesthetic Surgery Journal 26, S10–S17 (2006).; 7. Restylane® Lyft™, Instructions for use, EU; 8. Data on file (MA-43049).; 9. Andriopoulos B et al. Poster presented at AMWC 2019.; 10. Solish, N. et al. Dynamics of hyaluronic acid fillers formulated to maintain natural facial expression. J Cosmet Dermatol 18, 738–746 (2019).; 11. Philipp‐Dormston, W. G., Schuster, B. & Podda, M. Perceived naturalness of facial expression after hyaluronic acid filler injection in nasolabial folds and lower face. J Cosmet Dermatol 19, 1600–1606 (2020).; 12. Restylane® Defyne™, Instructions for use, EU; 13. Data on file. 43USCH1702 Clinical Study Report. Fort Worth, TX: Galderma Laboratories, L.P., 2020.