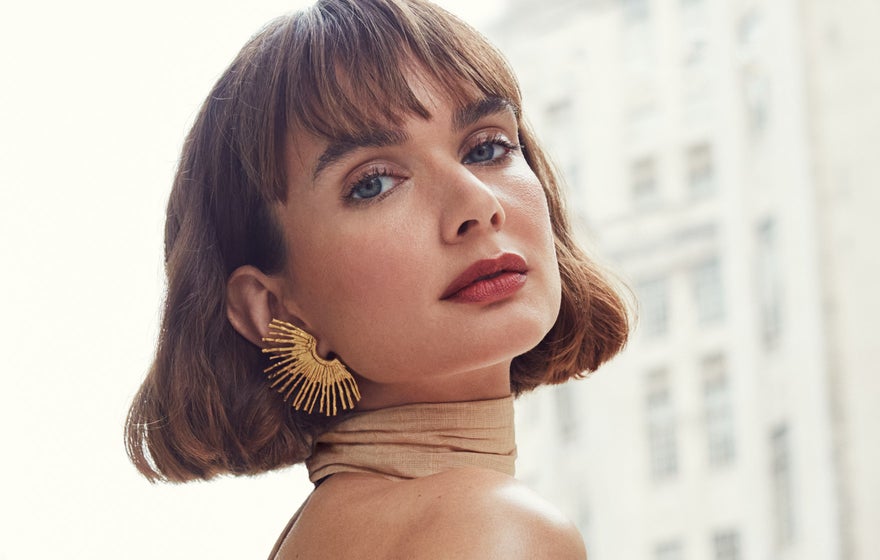 In the last 10 to 20 years, facial aesthetics of all kinds have become more and more common. For example, more than 50 million treatments have been performed so far with RESTYLANE®, one of the leading brands of fillers, since its launch in 1996.1 Still, aesthetic treatments are new to most people. Here's what you should know before booking your first appointment.
What exactly is facial aesthetics?
Normally, the term facial aesthetics is used to describe procedures that are more advanced than skincare, but not as invasive as surgery. Examples are fillers and other injectables, lasers, and deep peels. When the words aesthetic treatments are used, it can include other parts of the body as well, for example, hair removal on the legs with laser treatment.
However, most aesthetic treatments are performed on the face, neck, and décolletage. Facial aesthetics procedures are performed to achieve a younger look, to look refreshed, or to enhance specific features of the face.
Aesthetic treatments are considered consumer services
There are several things that are good to know before you book an appointment for aesthetic treatments (whether on the face or body). To start with, although it might be perceived as a medical treatment, you are not a patient but a customer. You're a consumer buying a consumer service and not a patient in need of treatment for a disease or medical problem.
This means, whatever legislation or rights you have as a patient in your country, this might differ from the legislation or rights you have as a consumer booking a facial aesthetics service, such as treatments with fillers.
Checking legislation can be boring but is necessary
Checking legislation might seem like a boring task. You just want to look a bit refreshed and are browsing around on the Internet and reading about aesthetic treatments. Why bother about legislation?
When you buy other things, such as computers, clothing, food, a car wash etc., you usually have quite a good hunch of what rights you have, should there be anything wrong with the product or service. What happens if you have an allergic reaction or side effects from facial aesthetics procedures? What are your rights as a consumer?
These aspects are good to check in advance. What does the legislation look like in my country? Does the clinic have insurances for their aesthetic treatments? Can I make a complaint if I'm not happy with the service and the result differs substantially from what I've been informed about? Remember to always discuss the results you can expect and potential side effects with the treating healthcare practitioner.
Become an informed consumer
Often, the clinic will ask you to read about the procedure and to fill out a form where you agree that you're fully informed about the aesthetic treatments, what results you can expect, and potential side effects. Make sure to read carefully so that you're a fully informed consumer.
Legislation can differ between countries
The legislation regarding aesthetic treatments can differ between countries. Therefore, you might want to think twice before booking a beauty trip abroad that includes facial aesthetics treatments. You will need to know what rights you have in the country you visit as well.
And what if you're not satisfied when you come home? If you had fillers and you're not happy with the result, how can you make a complaint? For this reason, it can often be better to receive your treatment in your home country.
Most people want natural-looking results that are not obvious for those who don't know they've had anything done. Results that make them look naturally refreshed. Regarding fillers, qualified healthcare practitioners will make sure not to overtreat and might advise you to take it in steps. Or you might need a top-up treatment with fillers after your first session. This will of course be tricky if you've had aesthetic treatments with fillers abroad.
Who is qualified to perform aesthetic treatments?
Before considering specific aesthetic treatments it's important to know who is qualified to perform them. Depending on your country's legislation, this may include plastic surgeons, cosmetic clinicians, dermatologists, cosmetic dentists or aesthetic nurses. You also have to check whether the person in question has had appropriate training for the treatment. Facial aesthetics include a vast number of different technologies, and everyone isn't an expert on them all.
A consultation doesn't mean you have to have the treatment
Before having aesthetic treatments, you will have a consultation. Clinics usually offer consultations for free, but sometimes you might have to pay a small fee. Remember that you don't have to proceed with a treatment if you only book a consultation. If it doesn't feel 100 percent right, it is better to wait and do a bit more research. Or not have the treatment at all.
Why am I doing this?
One of the most important things to do before having any facial aesthetics procedure or similar, is to ask yourself "why am I doing this?".
Is it because of social pressure? Are you comparing yourself to images on social media? Or comparing yourself to celebrities? These are generally not considered to be good reasons for having aesthetic treatments.
It's better if you're your own best inspiration. Maybe you just want a fresher look, as if you've just been on vacation? Or maybe you want to look a few years younger, or less tired, or have smoother skin? That is, you desire a treatment that will make you feel like the best version of yourself, instead of looking like someone else.
Can facial aesthetics make you feel better about yourself?
Interestingly, studies on fillers have shown that people who've had aesthetic treatments can feel better about themselves and have higher self-esteem.
For example, 3 out of 4 participants had more self-esteem and felt more confident 18 months after treatment with Restylane® VOLYME™.2 Another study evaluating Restylane® SKINBOOSTERS™ showed that 91% of participants thought that the treatment improved their self-esteem and self-confidence.3
Choose the right treatment for you
Instead of listening to advice from celebrities and social media, always consult a qualified healthcare practitioner who can guide you to the treatment that will suit you best.
Say that you're troubled by prominent nasolabial folds. Nasolabial folds are the deep wrinkles that start at the nostrils and descend towards the corners of the mouth. To treat these wrinkles, you could use fillers to "fill" them up. However, nasolabial folds can be due to a loss of volume in the cheeks. In that case, a better solution might be to use fillers to replace the lost volume. It could also be that your skin has lost a bit of its firmness and elasticity and has started to sag. In this case, a collagen-stimulating treatment with Sculptra® could be an option.
Celebrities and influencers on social media cannot possibly guide you here. This is why it's so essential to consult qualified healthcare practitioners and listen to their advice. They will know which treatment will suit you best, all aspects included.
Read also:
The most common misconceptions about fillers.
References
Data on file (MA-39680).
Talarico S et al. Dermatol Surg. 2015;41:1361–1369.
Gubanova EI et al. Poster presented at AMWC 2015.