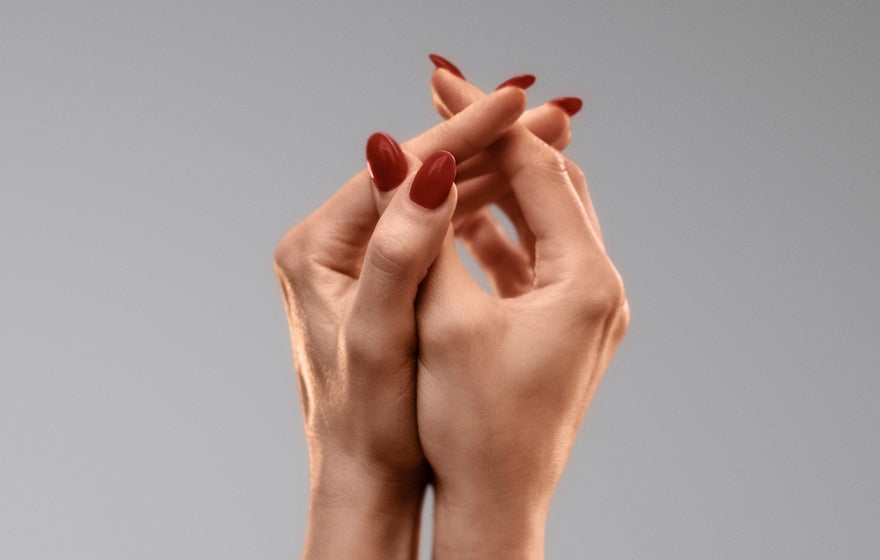 Are you spending money on facial treatments to get a younger and fresher look, but feel that the signs of aging are at least as prominent on your hands? Perhaps you have started to notice that your hands look dry, with fine lines and wrinkles, and that tendons and veins have become more visible. Maybe you feel a bit sad about it, as if your hands do not really belong to your body and self-image. And maybe you have dreamt about a fantastic hand treatment but have given up the thought?
The aging process, although a natural process, can affect how we feel about ourselves and our self-esteem. The hands are a highly visible part of ourselves. We look at our hands repeatedly throughout the day – whether it's driving our car, using our phones, or looking at our nails.
The hands are a somewhat forgotten area when it comes to aesthetic treatments, but that doesn't mean there's nothing you can do for hands that look and feel aged. There are in fact hand treatments for "thirsty hands" that really work.
Dehydrated hands or aging hands?
The dry skin on our hands can be a result of both natural aging and environmental stresses, such as washing, soaps and detergents. Exaggerated sun exposure can also have an aging effect on hands. And no matter how much cream we use, the hands still feel dry – thirsty.
In either case, once you start noticing it, it can be hard to ignore. Especially if the look of your hands also affects how you feel about yourself. Most people accept aging as a part of life, but that doesn't necessarily mean that you need to have dehydrated hands or hands that feel rough. No matter your age, your hands can still be smooth and beautiful.
So what hand treatments are there to get smoother and younger looking hands? And is there a hand treatment for dehydrated hands or aging hands that also lasts for a long time?
Hydration from within for younger looking hands
Today, many of us are familiar with injectable hyaluronic acid treatments – fillers. But there are similar injectable treatments that do not add volume, but instead improve skin quality. Whereas hand creams can only do so much for dehydrated hands, these injectable treatments have a much longer duration and can also improve factors such as skin elasticity, which contributes to younger looking hands.
To combat dehydrated hands or aging skin, hyaluronic acid microinjections are spread over a large area of the skin to increase hydration and elasticity1, as well as smoothness2. Thus, instead of filling a particular area to build volume, for example in the lips or cheeks, the microinjections improve the whole "canvas". For hand treatments, the hyaluronic acid injections are spread over the dorsal area of the hands to make the skin more hydrated, with less visible lines, tendons and veins.
How it works
Restylane® SKINBOOSTERS™ is the original hyaluronic acid injectable for improved skin quality. It uses the natural ability of hyaluronic acid to restore the composition of the skin, boost hydration and improve elasticity3. When the skin composition is restored, with improved hydration and elasticity, your hands will regain a youthful look.
Restoring the skin's composition takes time. This is not a quick-fix, but it can provide a result that isn't attainable if you are only using hand creams. Restylane® SKINBOOSTERS™ for hands is a treatment program with three initial treatment sessions, 2-4 weeks apart, to gradually restore the skin. Thereafter, you only need maintenance treatments every 4-6 months to preserve younger looking hands.
Younger looking hands – a result that lasts
This is a treatment that really works. A clinical study has shown that results last up to 12 months4.
The before and after images show the amazing results with Restylane® SKINBOOSTERS™ for aging hands or dry skin on hands. Your hands don't have to be a forgotten area any longer or make you feel sad or perhaps even a little depressed. There is an effective solution!
So get ahead of the game – say hello to hand treatments with Restylane® SKINBOOSTERS™! Ask your healthcare practitioner to learn more about Restylane® SKINBOOSTERS™ or find a clinic in your area.
Before and after the third treatment with Restylane® SKINBOOSTERS™
References
Gubanova EI et al. Poster presented at IMCAS 2015.; Distante F et al. Dermatol Surg 2009;35(S1):389–93.; Gubanova EI et al. J Drugs Dermatol 2015;14(3):288–98
Lee BM et al. Arch Plast Surg 2015;42(3):282–287
Gubanova EI et al. Poster presented at IMCAS 2015.; Distante F et al. Dermatol Surg 2009;35(S1):389–93.; Gubanova EI et al. J Drugs Dermatol 2015;14(3):288–98
Gubanova EI et al. J Drugs Dermatol 2015;14(3):288–98.