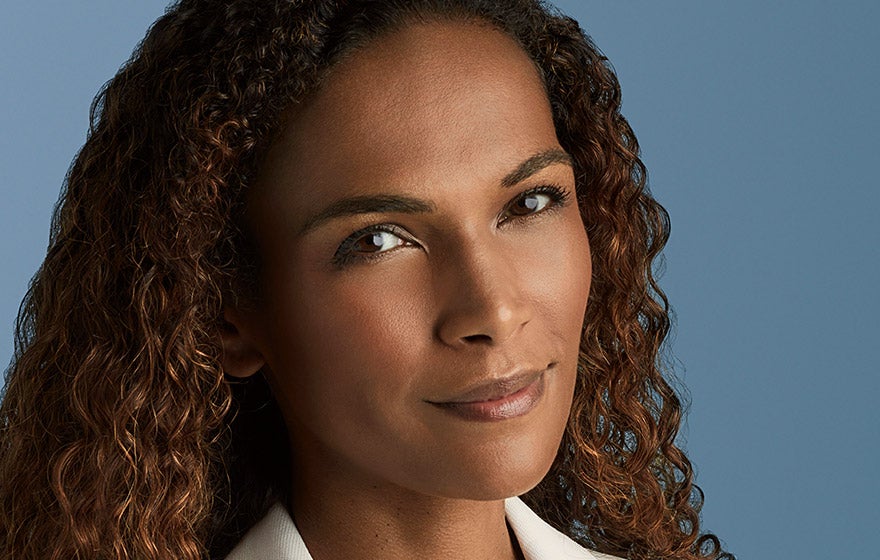 The shape of a young woman's face is often likened to a downward-pointing triangle, also called the "triangle of youth". This is because there is generally more volume in the mid-face in a young woman compared to older women. With age, we lose some of that mid-face volume. Instead, volume increases in the lower part of our face, due to sagging skin and fat pads that descend towards the jawline. Facial contouring with face fillers can help rebuild volume in the mid-face and restore the triangle of youth.
The triangle of youth tends to become "inverted", upward pointing, with age due to changes in several different types of tissues. Typically, we lose some of our facial fat, often most visible in the mid-face. There is also a redistribution of facial fat, with fat pads in the cheeks descending toward the jawline. Another change is bone resorption, that can lead to less definition in the cheeks. Also, some bone redistribution occurs with age, for example the eye sockets tend to sink down somewhat. Furthermore, the skin becomes thinner, leading to sagging skin.
Facial contouring with face fillers can help restore the triangle of youth
In other words, there are many changes that take place in our face with age. Exactly what these changes are can be hard to point out if you are not a professional, although you might notice sagging skin and maybe volume loss in the cheeks. You know that something has happened to your face that makes you look not as young as before, and it is not only due to wrinkles.
In a professional context, the different changes that take place in the mid-face are well-known. When recommending different kinds of aesthetic treatments for facial contouring, the healthcare practitioner must understand the anatomical changes in order to know what treatment will give you the optimal result. For some, bone resorption and remodeling might be the most prominent change. For others sagging skin or wrinkles.
Face fillers are often the recommended treatment for facial contouring that aims to restore the triangle of youth. However, the right choice of face fillers is critical to achieve the best result. Some face fillers are firmer and therefore suitable to build structure, for example at the cheek bones and temples, and can help lifting sagging skin. Other face fillers are softer and could be used in more dynamic areas of the face, where they will add soft volume.
The Restylane® collection of face fillers for facial contouring, lifting and volumizing
One of the biggest brands in the world when it comes to face fillers is Restylane. By utilizing two different technologies for creating filler gels, NAHSA™ and OBT™, Restylane can offer the world's most diverse range of fillers.1,2
The objective of the Restylane brand is to help healthcare practitioners create truly individualized results to enhance everyone's unique beauty. Every one of us is unique, not just in our looks but also in our individual goals and needs. By providing face fillers with different gel properties, healthcare practitioners have a big toolbox to choose from to create natural-looking results that enhance people's appearance while preserving their own unique identity. Whether it is about lifting sagging skin, filling lines and wrinkles, adding volume or facial contouring.
Below we will take a closer look at three fillers from the Restylane brand that can be used, among other Restylane fillers, for mid-face treatments.
Lift the cheeks with Restylane® Lyft™
Often, a firm filler is a good choice to recreate structure and to lift sagging skin in the mid-face. Restylane Lyft is the firmest filler gel in the Restylane® collection of face fillers. Based on the NASHA™ technology, it is a filler that is ideally suited for lifting and projection to create ultimate structure in areas where precision is needed.3-6 Restylane Lyft is designed to "stay in place", with low distribution and integration into the surrounding tissues.7,8 This means it is ideal to enhance volume for example at the cheekbones.
The safety and efficacy of Restylane Lyft and another of the Restylane face fillers, Restylane, were tested some time ago in a 2-year study5 at two centers in Taiwan. The patients in the study were treated in the upper cheeks, nasolabial folds, temples, nose and chin. They had two treatments in total, the second treatment a year after the first treatment.
The treatment satisfaction was high and maintained throughout the 2-year study period. When asked at one month after both the first and second treatment, and at 12 months after the second treatment:
99% said they would recommend the treatment to a friend
96% said they would have the treatment again
Facial contouring with Restylane® Defyne™
Another face filler suited for facial contouring and to enhance the mid-face is Restylane Defyne. Restylane Defyne is slightly softer and more flexible than Restylane Lyft and is ideal for creating soft projection and contouring.9
The gel technology used in Restylane Defyne is OBT™, which creates more flexible gels. OBT gels create natural-looking results in areas that require tissue support but that are also dynamic.10 This means that the face fillers look natural also when you move your face, such as when you smile and talk. More flexible gels are also the preferred choice when there is thinner tissue coverage.10 It all depends on your individual looks and what kind of support you need, for example when reducing the appearance of sagging skin.
Several studies have evaluated the efficacy and satisfaction with Restylane Defyne. One study showed that more than 95% of patients were satisfied with their treatment result.10 Another study showed that more than 95% of patients would like to have the treatment again11 and equally as many would recommend the treatment to a friend.12
Facial contouring with Restylane® Volyme™
Restylane Volyme is another of the face fillers from Restylane that is based on the OBT technology. As mentioned above, OBT creates gels that are more flexible, with distributed integration in the tissue for facial contouring and volume.13-15 Restylane Volyme can be used for instance in the cheeks, to restore contours to the desired level.
What is the difference between Restylane Volyme and Restylane Defyne when it comes to facial contouring? Restylane Volyme is a softer filler than Restylane Defyne and ideal for creating the softness and roundness that is typical for a youthful look. Restylane Defyne has a somewhat higher lifting capacity to create contours and definition.
A clinical study16 has shown that 95% of those who had been treated with Restylane Volyme rated the result as "very much improved", "much improved" or "improved" 12 weeks after treatment. At weak 48, almost one year after the treatment, as many as 77% still rated the result as "very much improved", "much improved" or "improved". Moreover, the same study showed that less product was needed to create the same volumizing effect compared to a competitor product. This means value for money for the patient and that healthcare practitioners can create the maximum effect with small amounts of filler.
More face fillers from Restylane
Restylane Lyft, Restylane Defyne and Restylane Volyme are three face fillers from the Restylane collection. All of them can be used in the mid-face for facial contouring and to help restore the triangle of youth. Apart from these fillers, there are a number of other specialized fillers from Restylane tailored for different applications. All face fillers from Restylane have a well-established safety profile.
Always contact a qualified healthcare practitioner if you are considering a treatment with face fillers.
References
Data on file (MA-33939).
Öhrlund A. Poster presented at AMWC 2019.
Kablik J et al. Dermatol Surg 2009;35(s1):302–312.
Data on file (MA-33947).
Andriopoulos B et al. Poster presented at AMWC 2019
Edwartz C et al. Poster presented at IMCAS 2020.
Data on file (MA-33947)
Nikolis A et al. Aesthetic Surgery Journal Open 2020; 1-12.
Restylane Defyne IFU, EU
Philipp-Dormston WG et al. Dermatol Surg 2018;44(6):826-832.
Philipp-Dormston WG, et al. J Cosmet Dermatol 2019; 00:1–7
Philipp-Dormston WG, et al. AMWC 2017
Segura S et al. J Drugs Dermatol 2012;11(1 Suppl:s5–8).
Tezel A and Fredrickson GH. J Cosmet Laser Ther 2008;10:35–42.
Data on File (MA-33947).
43USV1704 Pivotal Study – GAL1704 for Cheek Augmentation and Correction of Midface Contour Deficiencies